The Bored Fish era follows no set periods and makes no attempts at being a coherent timeline. It is rather a cover-all for a collection of possibly (but unlikely) related articles and characters.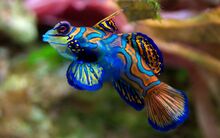 The history of the era is undefined, and seems to be a general mish-mash. Movie, G1 and Beast Wars Transformers (And a bit of Armada) happily coexist, while no effort has been made to keep timelines or technology consistent. If this universe has a Primus, he's stoned off his face. You probably don't want to think about what Unicron is like either.
Characters of the Bored Fish era
Autobots
Maximals
Decepticons
Predacons
Mini-Cons
Humans
Others
Locations of the Bored Fish era
Planets
Factions of the Bored Fish era
Spacecraft of the Bored Fish era
Technology of the Bored Fish era
Miscellany
Ad blocker interference detected!
Wikia is a free-to-use site that makes money from advertising. We have a modified experience for viewers using ad blockers

Wikia is not accessible if you've made further modifications. Remove the custom ad blocker rule(s) and the page will load as expected.