Ad blocker interference detected!
Wikia is a free-to-use site that makes money from advertising. We have a modified experience for viewers using ad blockers

Wikia is not accessible if you've made further modifications. Remove the custom ad blocker rule(s) and the page will load as expected.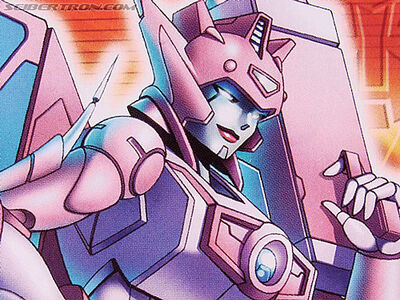 Elita-1 is an autobot in
Universes: g1

Many man 'bots would kill for a chick like Elita. Spunky and sexy, she is also intelligent and adventerous. Skilled in the martial art of circuit-su, she has been offered a position in the ranks of the Autobots a number of times but rejected them all. She spends her time exploring un-mapped planets with her father, Hound.
| | |
| --- | --- |
| Strength | 6 |
| Intelligence | 8 |
| Speed | 8 |
| Endurance | 6 |
| Courage | 9 |
| Rank | 7 |
| Firepower | 7 |
| Skill | 8 |
| Total | 59 |
Toy