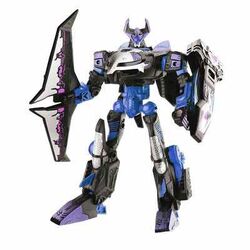 Rearguard's Original Form, before transformation
Rearguard
Biographical information
Homeworld

Planet X

Date of birth

Unknown

Date of death

N/A

Physical description
Alternate Mode

Formerly: Velociraptor
Currently: Planet X Fighter

Gender

Male

Height

1.2 Stories (Velociraptor)
2 stories (Planet X)

Sensor color

Blue

Personal information
Allies

Formerly: None, then Decepticons
Currently: Autobots

Chronological and political information
Era(s)

Cybertron / Live Action movie

Affiliation

Formerly: None, then Decepticons
Currently: Autobots
History
Early Life
Rearguard was originally an inhabitant of Planet X, until he befriended an inhabitant of Gigantion, Frontline. The 2 escaped before the war (meaning Frontline is the last surviving normal-sized inhabitant of Gigantion). The 2 were captured by the Decepticons, and Rearguard's memories were barred. He was dumped on Jungle Planet (by coincidence) and was turned into a Velociraptor-like bot.
Cybetron
When he left Jungle Planet and blundered onto Cybertron, Rearguard was recognized by Megatron, who took him in, thinking his memory was totally inaccessable. Unbeknownced to him, however, Rearguard had been able to partially reconstruct his memories, but not enough to remember Megatron. During this time, Megatron had him corrupt his old friend Frontline, who he also didn't recognize. Eventually, though, he remembered both Megatron and Frontline, so, he worked in secret to sabotage Frontline's mission, before finally removing his corruption.
Trivia
Rearguard's original name was 'Backlane', but, to match the name of his and Frontline's Warzone Mode, his name was changed to 'Rearguard'.
Cybertron Rearguard resembles first a re-tooled, ridge-less Cybertron Undermine, then later resembles Cybertron Sideways.